<!END OF TOP INCLUDE - DO NOT CHANGE ANYTHING ABOVE THIS LINE!>

DECLARATION OF WAR | Operation: "Solitary Solidarity"
I wrote this essay shortly after I finished "Are you prepared for international civil war?". Again, it started out as a personal exploratory "free writing"; this time inspired by the question: "What can we actually do to protect ourselves, and create an ever-better world, given our current social climate?" It soon became obvious that I was writing an unofficial (I obviously have no authority) "declaration of war" that could, potentially, start a powerful integrity, truth, wisdom, life, liberty, and love nurturing movement. Yes, this is extremely unlikely; but, even so, there is no reason not to be hopeful. If you are reading this, it has already spread farther than I expected!
Note: This essay inspired the creation of this web site. In fact, the entire essay is fully integrated into this web site in three parts: INTRODUCTION, FIRST STEPS, and NEXT STEPS. Even so, I realize that you might appreciate having access to the essay in its original form via PDF and YouTube. Links included below.
<!BEGINNING OF BOTTOM INCLUDE - DO NOT CHANGE ANYTHING BELOW THIS LINE!>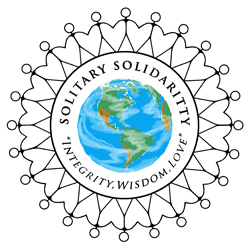 SOLITARY SOLIDARITY
LIFE * LIBERTY * LOVE
Integrity is the answer.
Wisdom is the way.
Copyright 2020-2021 Soren Sorensen. All rights reserved.

www.SolitarySolidarity.org
www.LifeLibertyLove.org